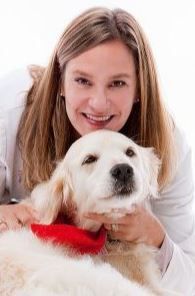 Dr. Sarah Machell
Dr. Sarah graduated from the University of Guelph with a Bachelor of Science degree in 1993. She then continued at the University of Guelph, Ontario Veterinary College (OVC) and graduated in 1997. She later founded North Oakville Animal Hospital in 2000.

When Dr. Sarah was 4 years old, she told her mother that when she grew up, she wanted to be a veterinarian. Her close bond with her family cat, Marmalade, who lived to the ripe old age of 21, was her inspiration to choose a profession where she could help and care for animals. She started working in animal hospitals at the age of 15 and knew she had found her passion.

Dr. Sarah, her husband Terry, and their two sons Gibson and Korben enjoy the canine companionship of their Rat Terrier, Sony and loveable Golden Retriever, Cheddar. The family also has two crazy kitties, Herriot and Peachy, as well as so many goldfish that they have run out of names! Dr. Sarah maintains a close working relationship with Oakville and District Humane Society. In her downtown, she enjoys reading, playing ice hockey, and visiting the family's northern Ontario getaway spot.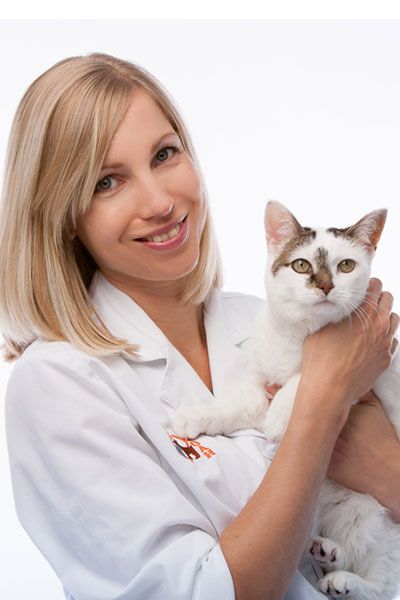 Dr. Jen Dowson
Dr. Jen hales from Newmarket, Ontario, and grew up in a family that always included four-legged members. In Grade 6 when she lost Taffy, her beloved Labrador who suffered from epilepsy, Dr. Jen decided to become a veterinarian.

She completed her undergraduate studies at the University of Guelph and then went on to Guelph's Ontario Veterinary College, class of 2008. Dr. Jen joined the NOAH team shortly after graduation and loves how our small animal practice combines her interest in internal medicine with surgery and dentistry.

When she is away from work, you will find Dr. Jen spending quality time with her son Logan and husband J.P. She also loves going to the gym, rock climbing, and playing ultimate Frisbee. Dr. Jen is fairly adventurous and has tried bungee jumping, hang gliding and skydiving. Her family includes two cats, Kitty and Chester, and a Golden Retriever named Ellie.


Dr. Suzanne Hornemann
A 1990 graduate of the Ontario Veterinary College, Dr. Sue joined NOAH in 2016 after practicing for 26 years in the Milton and Oakville Area. When asked why she chose this career, Dr. Sue responded, "I didn't really ever choose to be a vet. I don't remember ever wanting to do anything else and I feel, to this day, that this was what I was meant to do. It's not what I do, it's part of who I am."

Dr. Sue's wealth of experience spans all areas of general practice including emergency and internal medicine, dentistry and surgery (including orthopedics) and pediatrics. Her compassionate, soft and caring approach helps her patients (and their owners) feel at ease. She has a deep understanding of the bond between pets and people and strives to provide both a professional and personal connection with her patients and their people.

When she is not working, Dr. Sue enjoys spending time with her husband John (her university sweetheart) and their 2 daughters, Danielle and Sarah. A member of the Caledon Riding Club, she is an avid horsewoman and enjoys riding and hanging around the barn with friends. In addition to her human family, she shares her home with Tori, a Golden Retriever, Ringo the cat and a budgie named Jaws. Dr. Sue also enjoys watercolour painting, hiking, and gardening.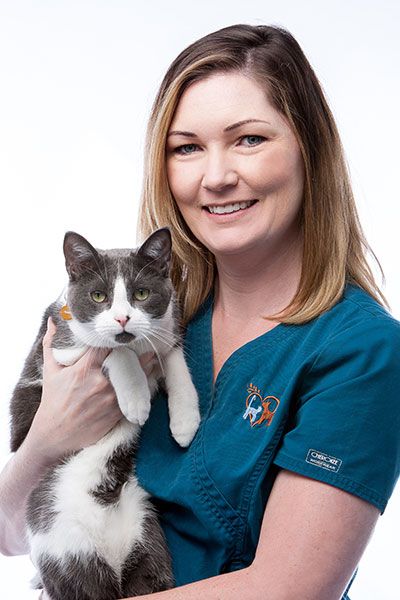 Ashleigh Quinn, Lead RVT
Born and raised in Stoney Creek, Ashleigh came to NOAH in 2011 after graduating from the Veterinary Technician program at the University of Guelph's Ridgetown Campus in 2007 and working in both general and emergency practices in the GTA. She has a special interest in dentistry and helping clients learn about pet health care.

Ashleigh started her work in veterinary medicine as a high school co-op at a small animal clinic and received her General Arts and Science Diploma from Mohawk College in 2005 before going to Ridgetown. She comes from an animal-loving family, and her inspiration to make pets her career came from saving Sandy, a kitten with an eye problem that she nursed back to health. When Ashleigh was in Grade 6, her best friend Sandy developed problems chewing and she was diagnosed with leukemia. Young Ashleigh then decided that she would be a vet one day and cure kitty cancer!

Today, she shares her life with a gray and white kitty named Purrogi and her doggie Maddie, an adorable Shih Poo mix. When she's not working, Ashleigh loves to stay up-to-date with the latest fashion trends, to dance (both Salsa and Bachata), to travel (visiting over 10 countries so far) and to spend time with her nephew Aiden. Her current goal is to see all 100+ waterfalls in the Hamilton area.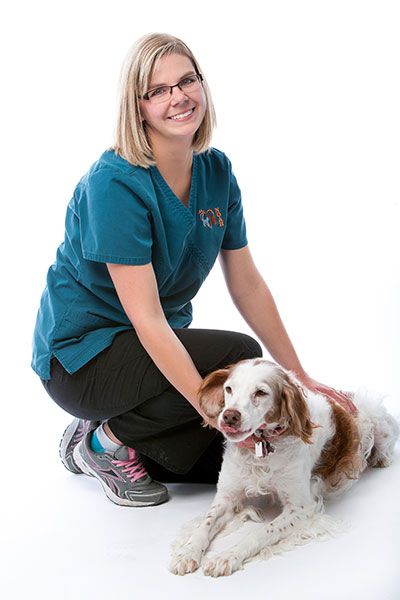 Katherine Ferchat, RVT
A Mississauga native, Katherine was motivated to pursue a career in animal health care when, after much parental badgering, Maya the Brittany Spaniel was added to her family on a snowy day in January 2003. When she finally got a "dog of her own" as a young teenager, Katherine realized that caring for and working with animals was what she was meant to do.

Katherine graduated with honours in 2008 from Seneca College's Veterinary Technician program. She particularly enjoys working with clients and nursing hospitalized patients and gets great joy from seeing pets return happy and healthy to their families.

When she is not at the hospital, Katherine enjoys spending quality time with her husband Gordon and daughter Mackenzie - you will find them taking long walks, camping, cottaging and staying up-to-date on all of their favourite sports teams. In addition to Maya, Katherine has a rescue dog named Ava.
Alexa Jones, RVT
Residing in Burlington, Alexa grew up wanting to have a career dedicated to helping animals. In 2019 she did just that and graduated with honours from the Veterinary Technician program at the University of Guelph's Ridgetown Campus. Alexa originally came to NOAH through her co-op placement at the end of her final year and joined our team full time once she graduated.

Alexa started to volunteer and work with animals at 14 when she did some volunteer work at the Oakville & Milton Humane Society. She later got a summer position working alongside their RVTs in 2018 while finishing tech school. Alexa has a particular passion for anesthesia and dentistry in small animal medicine. She has also become our head of nutrition.

Her fur-family consists of two cats — Jello, a longhair grey and white, and Seymour, a solid grey fuzzball. In her outside life, Alexa has a huge love for fashion, music and coffee.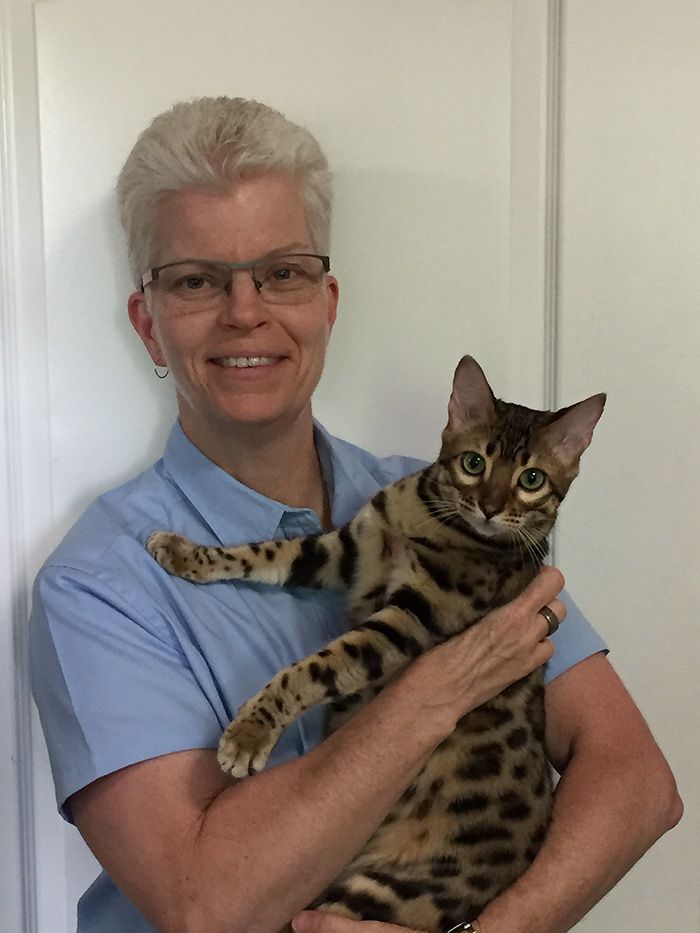 Karen Overton, Lead Client Service
Karen was born in Thornhill, Ontario, raised in a small town north of Stouffville called Ballantrae and now calls Oakville home. After 18 years in the private sector and working as a Correctional Officer, she decided to make a career change that would bring fulfillment, while making a difference. With her lifelong love of animals, veterinary medicine was a puuurrfect way to marry those two desires. In 1998, Karen started working in client service and management roles in Oakville and Milton hospitals and hasn't looked back since!

When asked what she likes most about her work, Karen says that she loves interacting with people, especially "pet people", as she enjoys helping those that share her deep love of animals.

At home, Karen's family consists of her wonderful partner Kim and their beautiful daughter Ashton. Their four-legged family includes "Oliver" a mischievous Cockapoo, "Dazey" a Bichon X rescue and two amazing Bengal kittens, "Simba" and "Adele".

Outside of work she likes to tend to her gardens, travel, play baseball, hang with her four-legged friends and, on those bad weather days, find a good book and hunker down to read.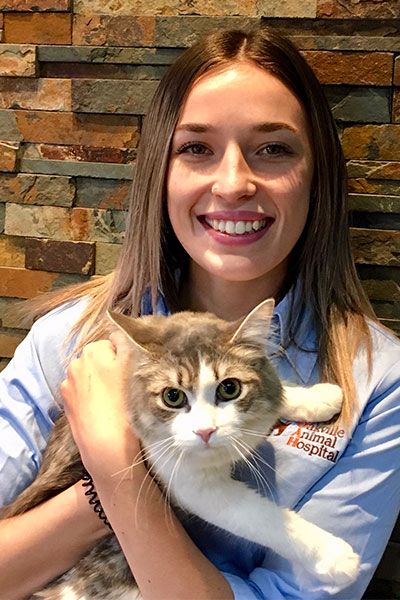 Erica Goossen, Client Service
Born and raised in Mississauga, Erica joined the NOAH team in 2019. She was motivated to pursue a career at a veterinary hospital because of her life-long passion for animals - her dad was a big influence as, from a young age, he nurtured this interest by teaching her about animals and how to care for them.
When asked what she likes the most about her job, Erica says it's the combination of helping both people and their fur—babies. She also loves learning and veterinary medicine provides lots of opportunities to do that!
Her animal family includes a dog named Titan, a cat named Jade, and a horse named Bambi. When she's not working, Erica enjoys spending time at the stable, playing video games and having quality time with her loved ones.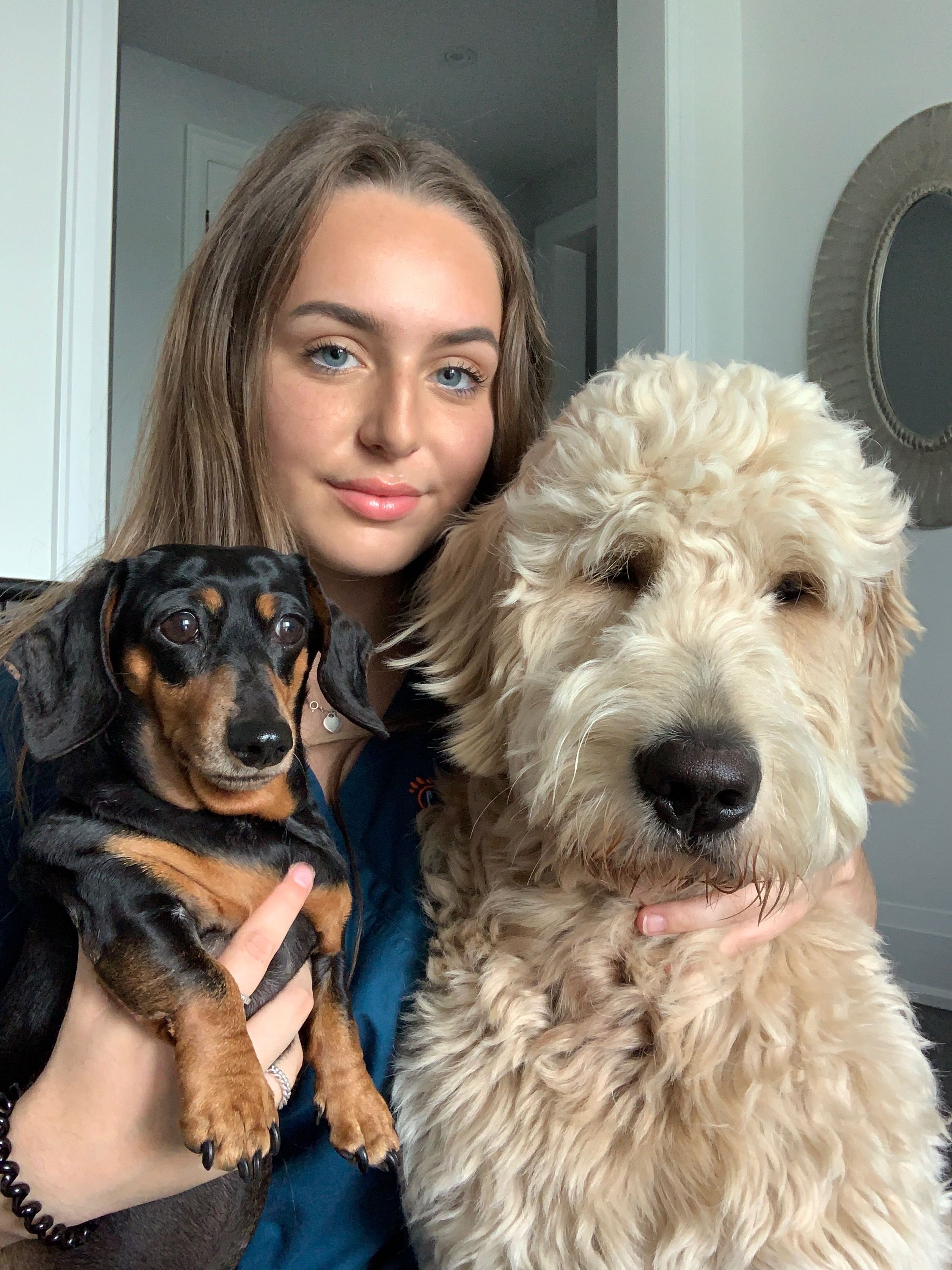 Eliza Kowalczyk, Animal Care Attendant
Born and raised in Oakville, Eliza joined the NOAH team in 2017. Growing up, Eliza has always devoted her heart towards animals, especially after having pets throughout her childhood. Eliza has also had hands-on experience at vet practices in different countries. She is currently a student at the University of Toronto, studying in the Life Sciences program.

When asked what she likes most about this job, Eliza says that working with animals is more of a calling than a choice. She loves helping animals, developing bonds with them, and nurturing every patient which makes the job rewarding!

At home, Eliza shares her life with two dogs - Louis, a golden doodle and Elsa, a miniature dachshund. In her spare time, Eliza loves spending time with friends and family, as well as going on adventures!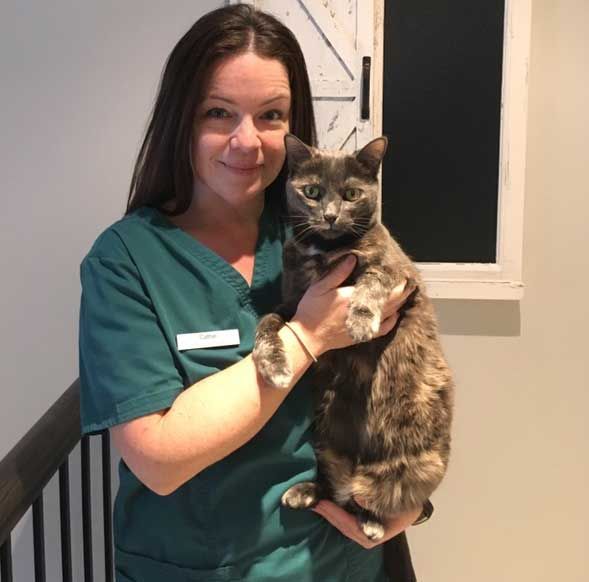 Catherine Lemesurier, Animal Care and Client Services
Born and raised in Bolton, Ontario, Cathie is now an Oakville resident and joined the NOAH team in 2019. Animals have always been a strong passion for Cathie, and they have had a special place in her heart since she was a young girl. Growing up, she had 3 dogs and 6 cats and discovered the unconditional love that comes with the human – animal bond. She rescued many stray animals as a child and was able to convince her parents every time as to why they NEEDED to make them part of the family. While in high school, she completed a co-op in a small animal clinic in Bolton and her first "after-school" job was at a local pet supply retailer.

What Cathie loves most about working in veterinary medicine is learning something new each and every day, the hands-on experience of helping the furry friends in her care, and creating bonds with her patients.
​​​​​​​
Today, her family includes Whiskey, grey tabby/Calico mix, 3 human children named Dylan, Armando and Sabrina and her husband, Carlos.
In her spare time, Cathie enjoys spending time with her family, learning the Spanish language, dancing, rollerblading and travelling to all the places on her bucket list.
Regan Gabrovsky, Animal Care Attendant
Born and raised in Oakville, Regan joined the NOAH team in 2019. From a young age, she has always been passionate about animals and was born into a family with many pets. Regan is currently an undergraduate student at the University of Guelph, studying biological science.

When asked what she likes most about the job, Regan says it is the learning experience and interactions with patients that is the most fulfilling!

Regan's animal family includes a dog named Duncan, a kitten named Pepper, a turtle named Franklin, and a chameleon named Migo.
In her spare time, Regan enjoys yoga, rollerblading, horseback riding and reading.