We understand how stressful surgery can be for pet people, and do everything we can to ensure your pet's safety while they are in the hospital at NOAH. We always do pre-anesthetic blood testing to check your pet's internal organ function before proceeding with surgery. It allows us to modify their anesthetic protocol if needed or postpone surgery until we can further investigate any areas of concern the blood test results highlight.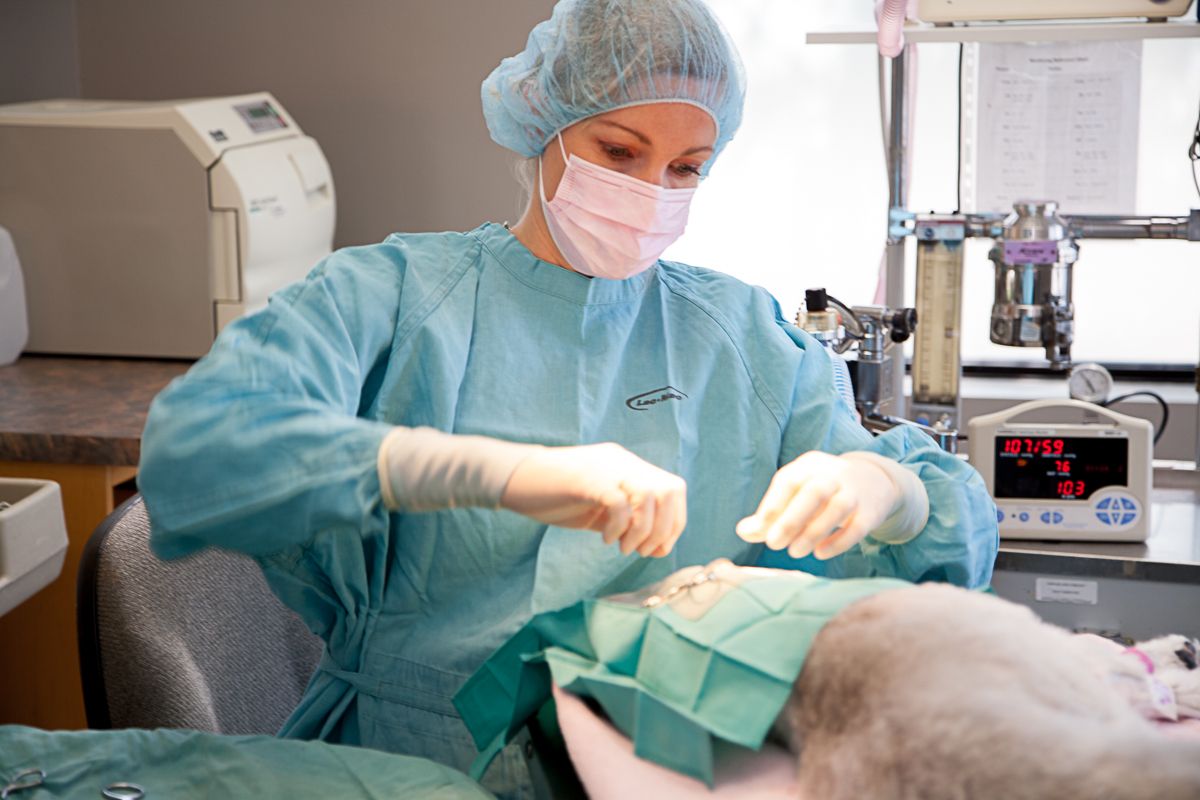 We call (or text if you prefer) our clients before and after surgery to keep them informed on how their pet's surgery day is going. When they are in surgery, our patient's vital signs are closely monitored by a Registered Veterinary Technician (RVT) using both state-of-the-art electronic equipment and hands-on assessments. We do both because there's always a chance that machines can be inaccurate, so our RVTs double-check the readings by physically listening to the pet's heart rate, checking their gum colour, and measuring their respiration.

Pets are on intravenous fluids to keep their blood pressure stable and warmed up to keep their core temperature from dropping. It also means we have a catheter already placed, so we have access to quickly deliver additional medication if needed in an emergency. Since they stay well-hydrated, pets who receive IV fluids during surgery recover more quickly from the anesthetic and have less of a "hangover."

After a general anesthetic, an RVT stays with our patients until they are awake, and they are housed in NOAH's Treatment Area, where staff will have their eyes on contact to ensure pets have a smooth recovery.

Our doctors are skilled and experienced surgeons, and NOAH offers a broad range of surgical services, including:
Spay / neuter

Soft tissue surgeries (e.g., lump and mass removals and biopsies)

Orthopedics (e.g., cruciate ligament repair)

Eye surgeries (e.g., cherry eye repair, entropion or ectropion eyelids)

Cystotomy (i.e., removal of bladder stones)

Treatment of Feline Urethral Obstruction (i.e., placing a catheter to treat a "blocked cat" that can't urinate)

Gastrointestinal Foreign Body Surgery (i.e., removing an ingested object that has compromised a pet's digestive system)

Endoscopy

Dental extractions (see Dental Care for more information)
Before your pet's surgery, the veterinarian will provide a detailed treatment plan, review costs and answer all your questions. When your pet is discharged from the hospital, you will meet with the veterinarian to discuss what to watch out for and receive instructions for post-operative pain medication and/or antibiotics. You can expect to hear from us the day after your pet is discharged from the hospital to check in on how they are doing at home and address any concerns. NOAH also provides a complimentary follow-up exam 7 – 14 days after surgery to ensure your pet is healing as anticipated.
In cases where a needed surgery is outside the scope of our general practice, NOAH can often bring in one of our on-call specialist surgeons to do the procedure at our hospital, or we can refer your pet to the most appropriate specialist.
We are proud to say that NOAH DOES NOT offer declawing or tendonectomy surgery for cats. For scratching issues, there are lots of options to explore, and if you're interested in how we can help you and your cat, please call for more information.